In recent years, portable power stations have gained immense popularity. They allow people to take power with them when they move outside. So, whether you are in the middle of a mountain or in your home, these lithium power stations will provide you with power without relying on fossil fuels or other energy sources.
You can carry these affordable portable power stations in your backpacks when planning camping, going to construction sites, or anywhere you need electricity to keep your mobile phones and other electrical appliances charged and working efficiently. You might be wondering about the best battery power generator you can carry when going outside. Bullbat power stations are the option to meet your energy needs.
In this article, we will discuss the reasons why you need Bullbat power stations, and how they can meet your energy needs. Let's dig deeper:
1. Faster Charging
It's always a great idea to carry the best battery power generator than can charge your devices faster. The noticeable point is that not all portable power stations have the same charging time. They take different charging times depending on the power supply.
2. Portability
The Portability of these lithium portable power stations is one of the prominent features. So, when you search for power solutions stations, you need to consider the size of different products.
In terms of weight, we recommend you try the Bullbat power station because it has a compact size that you can carry in your backpack or car tools kit.
3. Outlets ports
When you find the portable power stations for sale, check the outlet ports offered by these power solutions. A variety of outlet ports will help you to charge multiple devices simultaneously.
Top portable power stations have multiple ports like AC, DC, and USB ports.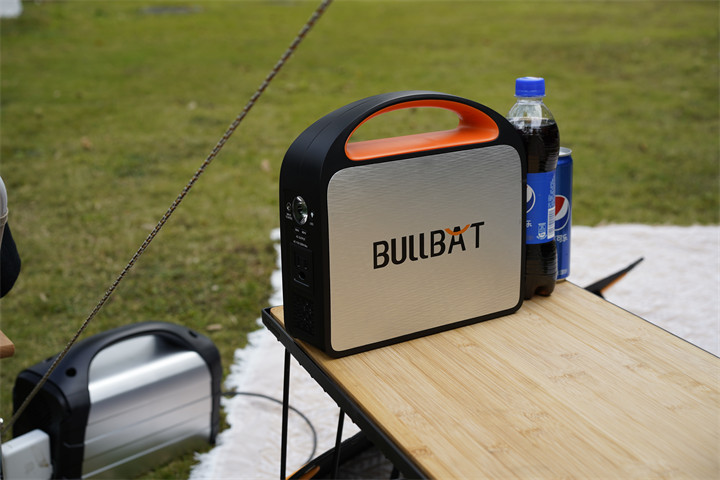 Best Portable Power Stations Overall
Meet your power needs with the following battery-powered portable generators:
1. Bullbat
Bullbat power stations provide exceptional power supply to meet the power needs on an adventure or in an emergency. Bullbat's products range from the Pioneer series to the Adventures series. These lithium power stations are lightweight, so you can carry them whenever away from home. Bullbat Adventure series offer 613Wh power and serves as the best battery power generator for off-grid events and power blackouts. On the other hand, Bullbat's Pioneer series also has with 505.44Wh power supply. You can use this lithium portable power station for off-grid events and in case of power blackouts.
2. Jackery Explorer Power Stations
Jackery provides a variety of powerful portable power stations. These power solutions are top picks due to their larger capacity, multiple outlet ports, and portability.
.It has a compact size and only weighs 22, so it is the best camping power supply. Moreover, it has three AC ports, two USB-A ports, and two USB-C ports that allow you and your camping buddies to keep your devices alive all day long. If you're looking for the best portable power station for camping, Jackery portable power stations are the safest option.
3. Anker 521 Portable Generator
The Anker 521 is the newest edition of the Anker portable power stations. The 521 Portable Power Generator is the best portable power station for CPAP machines, camping, and other outdoor activities. It weighs just 8.2 pounds and is portable wherever you want. This power solution provides only 256Wh power, but it is the best camping supply. Moreover, this portable power station has an LED display to check the battery status. It has multiple outlet ports that allow charging multiple devices at once. This is the most affordable portable power station available on sale.
Final Thoughts
We hope you are clear about the benefits of carrying a portable power station on your packing list. After going through the best portable power stations overall, we recommend you try Bullbat power stations which is the best power solution to keep your devices charged for days. These power stations are lightweight and you can carry them when you on camping or face power blackouts.