BULLBAT Launching Celebration with more than 30% bumper discounts on all products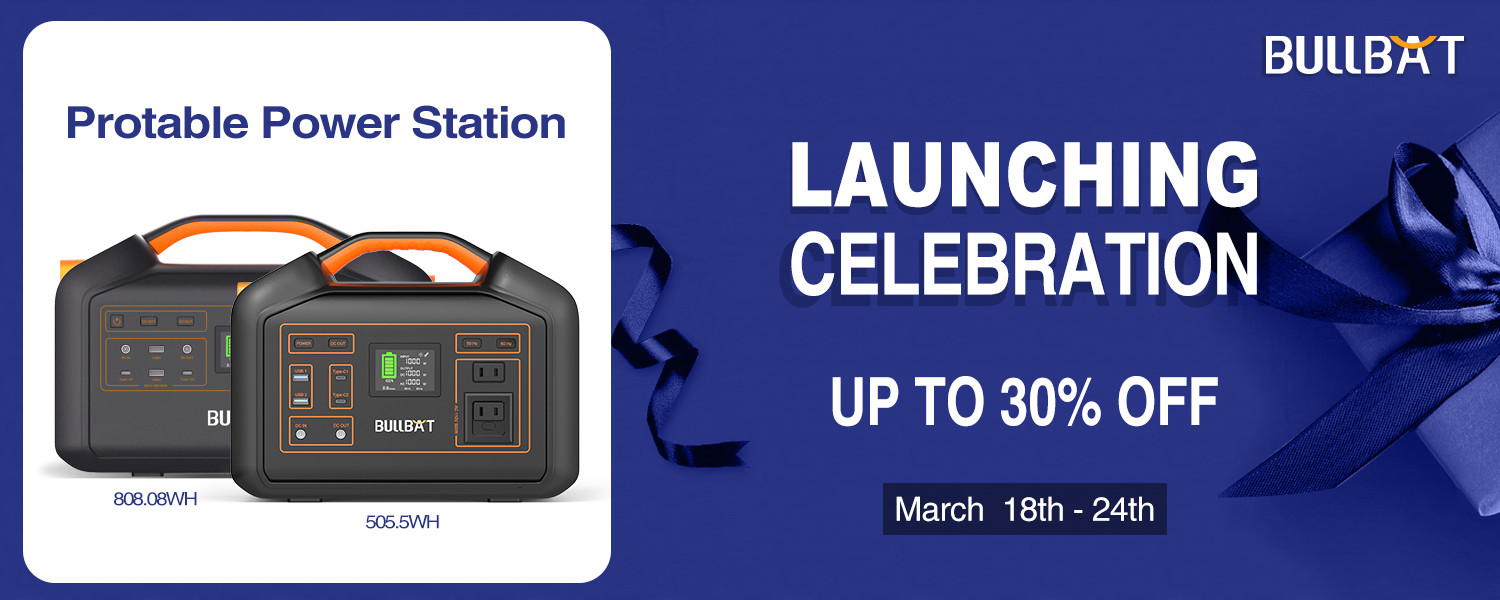 Presenting to you the ideal brand "BULLBAT," highly focused and aimed to meet the people's demands. To serve the customers up to their complete satisfaction is our first priority. The brand has launched its fantastic collection of the products "power stations" to improve the lifestyle by providing them ease.
Power stations are now playing a significant role in everyone's life. It doesn't matter wherever you need a power supply to recharge your things, these equipment are highly appreciable for their unmatched portability, safety, and fast recharging qualities.
So, to bring advancement in the world, BULLBAT has introduced to communicate and supply products worldwide. The outstanding products are made available on the website at the lowest prices possible. But, we are going to give you good news!
A bumper treat has been announced for the people out there to let them join us in our celebration of launching our new site. The massive discounts of the year are available on all of the products. There is a range of more than 30% off on all the BULLBAT products for one week. You can enjoy the most affordable shopping by saving 100s of USD dollars just on a single product. You can grab your favorite power station from the 18th to the 24th of March.
Let's find out our first BULLBAT Pioneer 250 Portable power station that is exceedingly portable, weighing not more than 5 pounds. You can charge your electric devices while charging your power station side by side.
1.BULLBAT Pioneer 250 Portable Power Station 257Wh/250W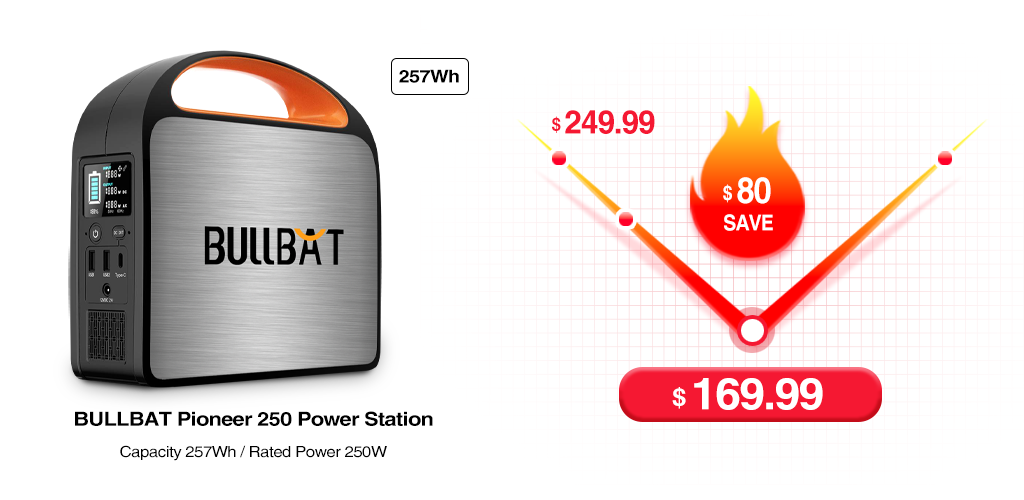 A digital LED Screen display shows all the useful values to help you examine the activity of your unit. With the addition of an LED flashlight, it features two lighting modes. With an exceptional celebration discount of 32%, you can enjoy its best features only for $169.99.
2.BULLBAT Pioneer 500 Portable Power Station 505Wh/500W
Another product that is much better and more affordable than thousands of power stations, the BULLBAT Pioneer 500 Portable power station, has an almost 30% early bird discount for a promotion week. It has an exceptional recharging capability to reach 80% within 2 hours only. It also recognizes well for its bypass charging feature.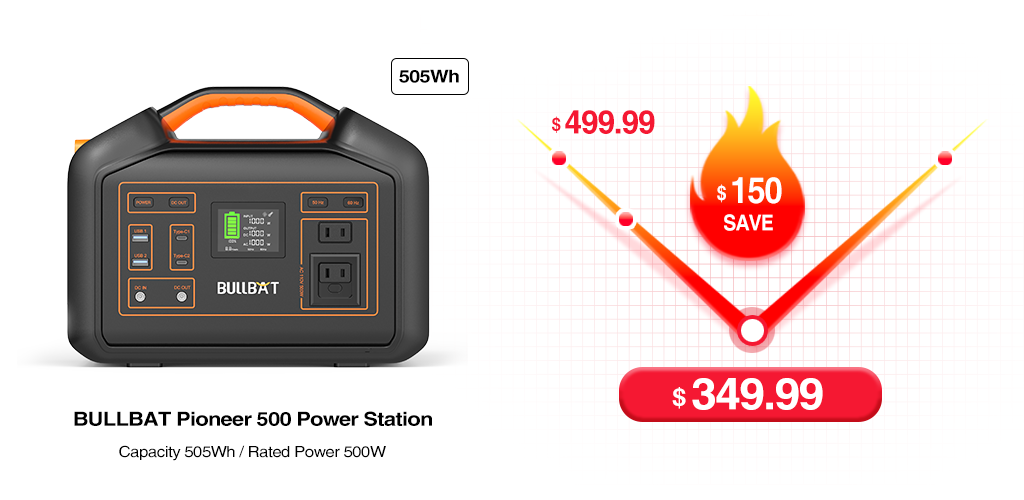 With multiple outputs and efficient performance, it consists of a 60W Type-C port that instantly charges your electronic devices like cameras, smartphones, laptops, etc., and makes your outdoors a memorable one within just $349.99.
3.BULLBAT Adventurer 700 Portable Power Station 613Wh/700W
When you need a high-power unit, BULLBAT Adventurer 700 Portable power station is what can truly inspire you. You can enjoy its wonderful features with an exceptional 34% discount. As it has an extensive capacity to charge heavy electronic devices, you don't need to worry about carrying any device with you.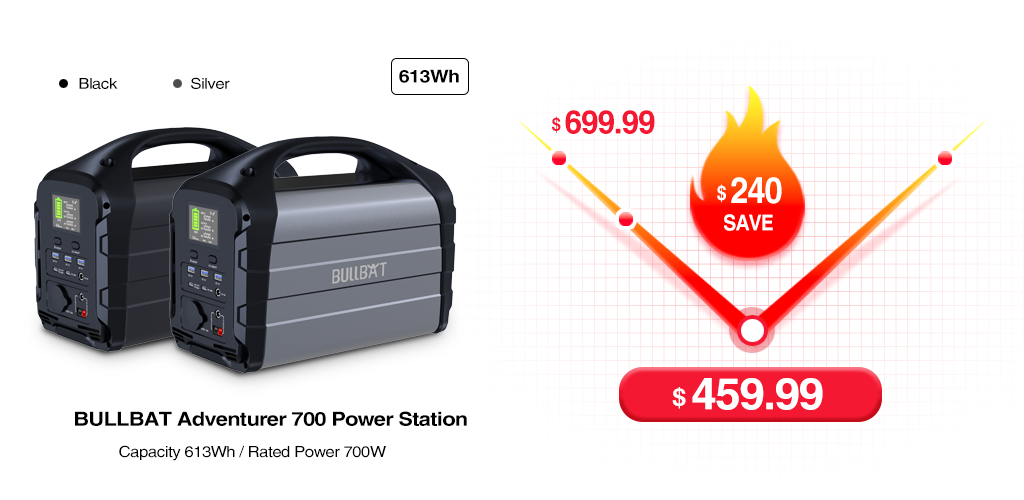 Beautiful in appearance, excellent in performance power station you can purchase just within a small spent of $459.99.
4.BULLBAT Pioneer 800 Portable Power Station 808Wh/800W
What can inspire you the most? A 38% off on the most effective power station of 800W, the bountiful discount of the year! With only 17 lbs. in weight, it can rapidly recharge your electronic devices such as mini-fridge, laptops, smartphones, TV, Cameras, drone, and others with itself getting charged at the same time. You can avail this valuable product for just $499.99.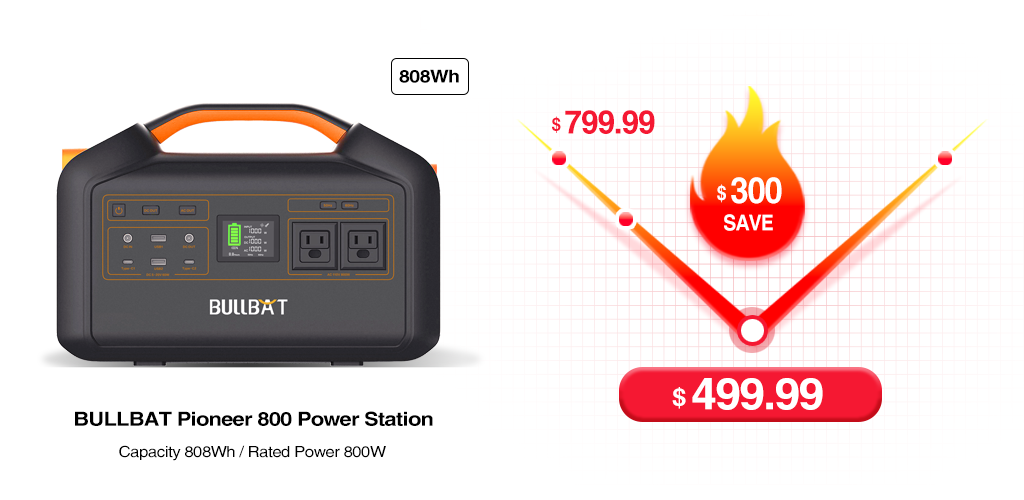 So, don't miss out on this precious opportunity to purchase your favorite power station while availing yourself of the best discounts you ever have had in your whole life!