June 8, 2022: The Bull Bat's star product campaign is its annual mid-year promotion, and Bullbat has specially launched a variety of portable power station mid-year promotions. It offers 30% off on star product discount. The event dates from June 8th to June 14th. If you
miss the Bullbat mid-year promotion, wait for another year, a Portable Power Station feast is not to be missed. The following products enjoy the best price, don't miss the opportunity of this year's big promotion.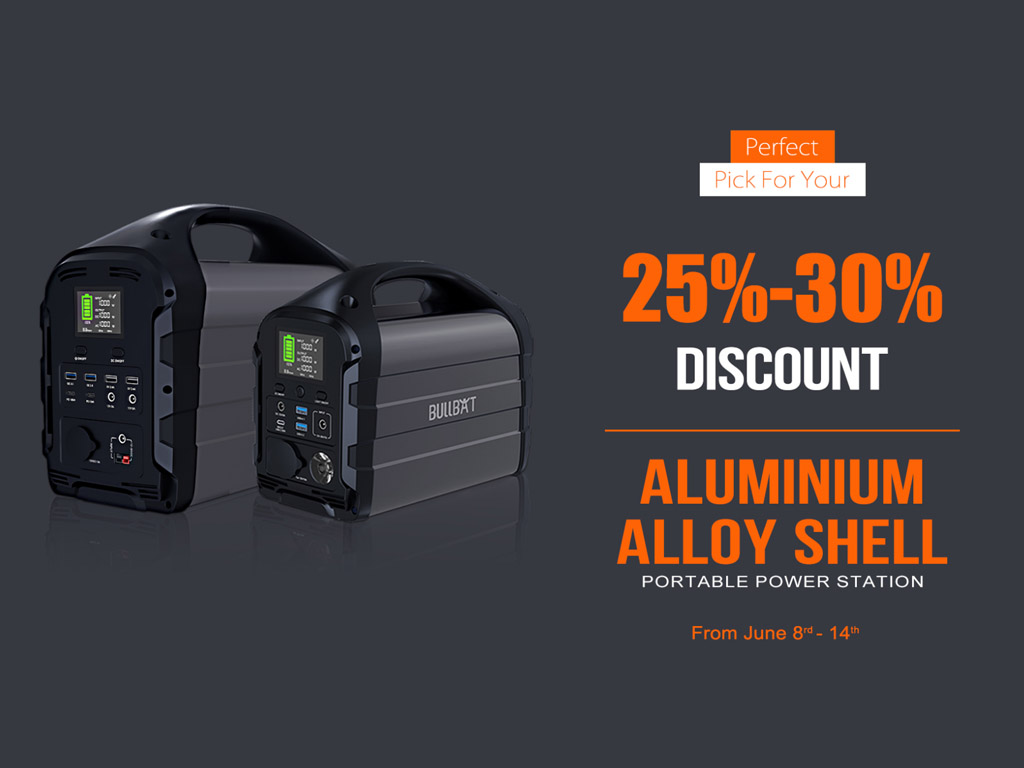 BULLBAT Adventurer 1500W high-capacity Portable Power Station comes with a handy handle and a high-quality aluminium alloy case, with 1500W of pure sine wave continuous power and a capacity of 1226.4Wh. make a discount of 30% for a limited time. The four major functions of the product solve the problem of outdoor power consumption for home and long-distance self-driving:
1: Large capacity
2: Multiple charging outputs
3: Dual charging ports
4: Aluminum alloy shell
The BULLBAT Adventurer 1500 Portable Power Station is the perfect home emergency backup power system. Plus, reliable photovoltaic panels to support you during emergencies or extended power outages. The large-capacity, small-sized, and powerful Portable Power Station is enough to meet the various power needs of the back seat for family, travel, camping, and long-distance travel, providing power for your life anytime, anywhere.
The second is the BULLBAT 298Wh/500W Portable Power Station make a discount of 25% for a limited time which is suitable for a variety of scenarios, and one to solve the problem of outdoor power consumption. This Portable Power Station weighs only 7 pounds / 4.5 kg, which is very suitable for outdoor camping and hunting as a backup battery power source, convenient for energy storage, anytime Go out anywhere, no fear of power failure, supports fast charging, maximum input power 200W, use it as an indoor emergency power station during a power failure to power various electronic devices and small appliances, safe to use because it does not use fuel and produce harmful gases carbon monoxide. Features MPPT function for faster solar charging performance. The following advantages are the 5 reasons why you should choose us:
1 Convenient and portable
2 multi-port output
3: Support customization
4: Strong compatibility
5 Quality assurance
We hope Bullbat will bring more convenience to your life.
We Wish You a Happy Life!
Your Bullbat