A portable power station is just a large power bank for most people. While charging a power bank does not need anything other than your mobile's charger, things are different when we talk about the BULLBAT portable power station. So, here we will elaborate on all the different ways you can use to charge your BULLBAT power station.
Different ways to charge a BULLBAT power station
An amazing thing about the BULLBAT portable battery power station is that you have many ways to charge it. Below are those methods and how they can be very effective for you.
Wall outlet
The first and the most common way to charge your power station is to use a wall outlet. You might be thinking that this is the quickest method to charge your portable battery power station. While it takes only around 4 hours with a 160 Watt AC adapter, it is not the quickest method that you can try. However, below are some benefits of using this method:
· Charge anywhere with AC power
· Quicker charging
· The safest way to charge in homes

PD USB-C charging
If you do not like to carry different chargers around and want one brick and wire to do all the job, then USB-C charging might be a good option for you. There is a USB-C port that supports 60 watts of bidirectional power. If you have a PD charger, you can charge your portable battery power station using that.
Keep in mind that this 60-watt charging will be almost 3 times slower than 160 watts charging. Here are some benefits of using this method:
· No need to carry different chargers and wires
· One wire and charger can be used for input and output across all devices
· Compatible with different input ways
Solar Panel charging
Solar power is not only amazing for being free and green energy, but it can also bring amazing portability benefits. While it is restricted to the daytime only, its usage can be better than you think. Accepting solar panel charging is something that makes BULLBAT power stations your best portable power station for camping. Below are some of its benefits:
· Free
· Good for environment
· Available almost everywhere

Car outlet charging
People who use portable power stations for camping often want to charge theirs with the car power. So, the ones from BULLBAT come with this input method as well. You can use your 12-volt carport to charge your power station within 4 hours. It is beneficial in these ways:
· Charge while you travel
· Charge while you rest
· Get more power from your car with the power station
Combination charging
The last and the best method to charge your portable power station for camping is to use combinational charging. Here you will use the wall adapter and the USB-C charging simultaneously. This is also the quickest method, providing more than 80% charging within 2 hours. It is because of the combination of 160 watts and 60 watts of power. Some of its benefits include:
· Best for emergencies
· Make good use of the time and resources available
· Works in both outdoor and indoor situations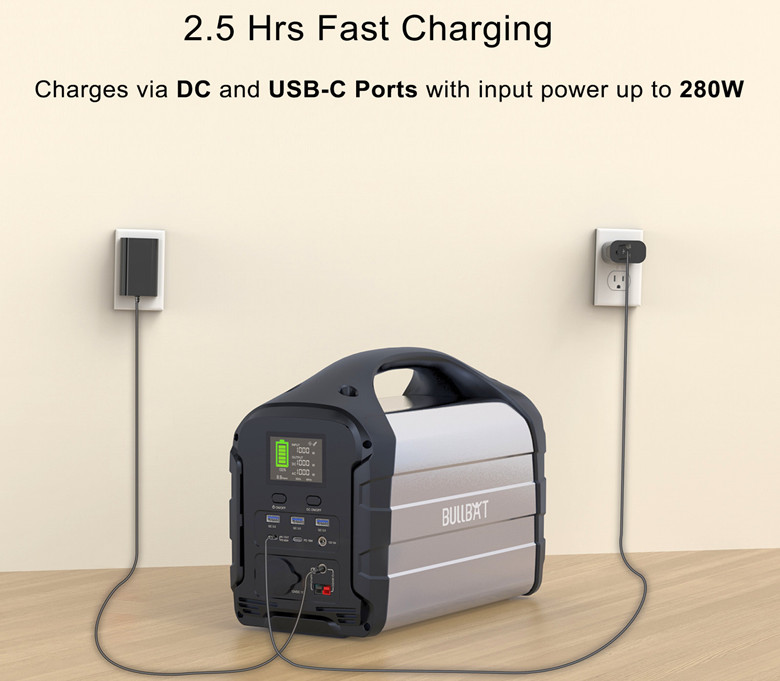 These were some ways by which you can charge your BULLBAT power stations.
Verdict
Unlike smaller power banks, the BULLBAT portable power station comes with many ways to charge them. So, it becomes more reliable and convenient for you to charge it. It is because you can choose the most efficient way available to charge your BULLBAT portable power station.