Portable power stations have been in use for a while now. Due to their portability, compact size, and design, they replaced the traditional gas/petrol generators in many environments and occasions. People all around the world carry portable power stations on their camping trips. Alongside camping, they have many other uses for both indoor and outdoor functions and activities. Let's get into the main topic of how a portable power station works without further ado.
Working Mechanism of a Portable Power Station
Unlike typical generators that use gas/petrol, are bulky in weight, and take up a lot of space, portable power stations either use solar energy or electrical energy as a resource. Both of these resources do not cause any environmental or noise pollution. Due to these advantages, people nowadays prefer probable power stations over typical bulky generators.
"How Does a Portable Power Station Work?". The working mechanism of a portable power station is similar to a typical generator. However, there is more efficiency and accuracy in its working process.
Portable power stations usually have a large capacity battery. Having a large capacity battery inside a portable power station is imminent. It shows how much charge it can store at once to power up heavy-duty electronic appliances for a longer duration.
A portable power station has an inverter that can perform AC to DC and vice versa conversion. First, a power station stores energy from external resources. For this purpose, it can either use solar energy or direct electrical energy. In the case of solar energy, power stations use solar panels to store solar energy. This solar energy is then converted into electrical energy and stored in the battery. It is where the built-in inverter does its job.
On the other hand, you can also charge portable power stations from a wall outlet. Bullbat power stations come with a standard wall outlet and AC charger functionality to make everything easier for you. All you need to do is connect it with a stable power resource, and it will recharge its battery smoothly. Bullbat portable power stations also offer fast charging functionality. You can fully charge a power station within a couple of hours. This fast charging feature is pretty promising for people who make quick plans.
You can connect your devices and appliances with the power station once it's charged. All of the Bullbat power stations come with essential ports. They include AC Port, USB-A 2.0 Port (12 V), USB-A 3.0 Port (18V), USB-C Port (100 W), USB-C Port (18W), DC5521 Port (60W), and Car Cigarette Port (120W).
It is how a portable power station works. But before buying a power station for your use, you must check out the below-mentioned features. All of these features are necessary for a quality portable power station.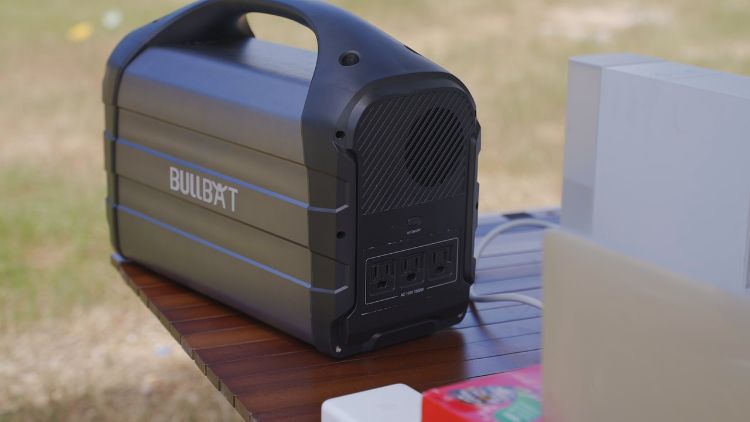 Essential Features to Have in a Portable Power Station
There are plenty of essential features to have in a portable power station. Missing out on any of these features neglects the true essence of a portable power station. Bullbat keeps all the essential aspects in its Pioneer and Adventurer series to their maximum extent. Here are the details of all the features you must have in a power station.
Extreme Portability
Portability is the most fundamental feature to have in a portable power station. With lithium-ion batteries, it's now pretty much possible to achieve the required portability. Bullbat offers maximum portability in its power stations. You can easily carry our portable power stations anywhere without any hassle.
Our BULLBAT Portable Power Station 250W weighs around 5-pounds with a compact design. Despite having less battery capacity and a compact design, it still has all the necessary ports for maximum connectivity. You will get more lightweight and compact design power stations in the upcoming years from Bullbat.
Maximum Battery Capacity
Having a maximum battery capacity inside a portable power station is indeed an essential feature of a power station. Most electrical/electronic devices and appliances require a lot of backup power to work efficiently for a longer duration.
Bullbat offers up to 1500W/1226Wh in its portable power stations to power up your refrigerators, electrical coolers/heaters, and other heavy-duty appliances. BULLBAT Portable Power Station 1500W is our top-of-the-line station. With its 1500W battery capacity, it's more than enough to run all of your heavy-duty appliances for a longer duration.
Despite having such a large battery capacity, this portable power station is still quite compact and lightweight. It weighs around 32-pound which is phenomenal with a 1500W battery.
Solar Charging
While on a road trip, you may face a situation where you do not find any power outlet. It is where the solar charging functionality works like a savior. Solar charging is an essential feature to have in a portable power station to avoid any unfriendly circumstances.
Bullbat offers solar charging functionality in its portable power stations. Our power stations have dual charging port functionality. You can connect the DC5525 port to your wall outlet or car cigarette lighter. It supports up to 220 W/7A input power. On the other hand, you can also connect solar panels with Anderson port. It supports up to 13A input power.
These are the three most essential features of a portable power station. Alongside this, a power station must provide all the necessary safety and reliability features to ensure human life safety and a longer product lifespan.