A portable power station provides an efficient way to power appliances and has fantastic recreational uses. It is an excellent device to consider when there is a power outage so that you can charge your appliances with ease.
A portable power station generator station is powered by a rechargeable battery and is equipped with a DC carport, AC outlet, and USB charging ports. It can be of great help when you need it to charge your smartphone, laptop, tablet, electric blanket, mini cooler, etc.
Now the question arises how do you charge a portable power station? Is it challenging to charge a portable power station? Continue reading to find useful information about how to charge a portable power station.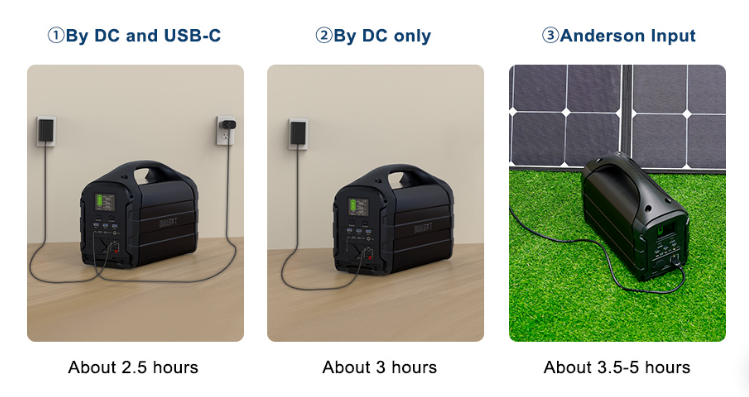 3 Ways to Charge a Power Station:
There are multiple ways to charge a portable battery power station. First is through a regular power outlet which is the simplest way to charge it. The second way is via solar panels when there is enough sunlight, whereas the third way is through a cigarette socket lighter present in the car. In short, it is super-easy to charge a power station. Let's get to know how to charge your power station without any trouble.
How to Charge a Power Station through Regular Power Outlet?
This method is generally used to charge their power stations. Charging through a regular power outlet at your home is one of the easiest and simplest ways to charge your power station. This is done by connecting the power station charger to the input port and plugging the device into the power outlet. The battery capacity of the lithium portable power station will be displayed via LCD on the front screen. Once your battery is fully recharged, remove the charger, and you can readily use your solar generator portable power station.
Charging Guideline through Solar Panels:
The second way to charge a portable electric power station is through solar panels. This method works best in areas having lots of sunlight and a scarce power supply. A portable solar power station has a solar input port at the back, supporting solar panel charging. You need to connect the power station plug with the solar panel and wait till it charges fully.
How to Charge a Power Station via Cigarette Socket Lighter?
The electric portable power station can also be charged with the help of a cigarette socket lighter available in vehicles. First, you need to plug the device into the socket lighter to do this. Afterwards, insert the cable into the input port and wait till the device is fully charged. Now, it is ready for use. You can use it comfortably while camping, having a road trip, on a picnic, and so on.
How Long Does It Take to Charge a Power Station Fully?
Generally, it takes around 6-8 hours to charge a power station fully. However, the timing can vary depending upon the size and type of battery used in your power station. A fully charged power station usually lasts for more than 10 hours, provided you have given 6-8 hours straight for its recharging process.
Conclusion:
A portable power station is extremely important in the current digitalized world of today. It offers a user-friendly way of recharging, and the charged power station can be used for up to 13 hours and is helpful in settings having a lack of electricity. If you are looking for a fast charge portable power station, visit Bullbat, you want a 500-watt portable power station or an 800-watt portable power station, Bullbat has it all.