In today's connected world, when we say we want to go away but actually don't want to give up our smartphones and laptops, portable lithium-based power banks, also known as portable power stations or generators, can be a game-changer for camping or other off-grid fun.
These small power stations can be such a lifesaver when you are out taking a road trip or in your van for days at a time. Nothing stands in the way of using electric devices on the go any longer. Read further to find out why you should get a portable power station for your van and which product will best suit your vehicle.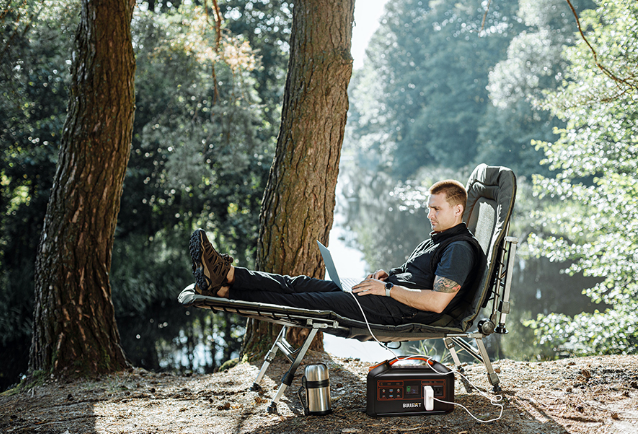 Benefits of Having Portable Power Stations for Your Van
We are often at a loss when our phones or tablets suddenly shut off because of low battery. An energy storage power supply, such as a portable power generating station, is your first choice at this moment. Below listed are a few reasons why you should keep a portable power station generator in your van at all times:
Portable and Compact
Portable power stations weigh only a few pounds. They typically sport a ninety-degree handle, making them easy to transport and perfect for outdoor activities such as camping, touring, and randomly spending a day around in your van.
More Ports
With various ports, including USB ports, carports, AC outlets, DC ports, and Type-C ports, the product's scalability goes far and beyond. Now you can charge all of your devices, such as smartphones, laptops, tablets, etc., and even power small appliances in your van like your mini-fridge, microwave, and electric kettle while on the go!
Green and Rechargeable Solution
A portable battery power station can be recharged using either battery or solar power, which is not only light on your pocket and easier for van life but is beneficial for the environment too.
Low Maintenance
One of the most noticeable qualities of portable power stations is that they are very easy to maintain, making them an excellent choice for your van. You do not have to worry about repairs that will dent your bank savings.
What Size Will Fit Your Van?
Choosing the right size lithium portable power station for your van is crucial, and luckily for you, Bullbat caters to all sizes, large or small. Read further to find out which portable electric power station will work the best for you:
Smaller Vans:
If you have a smaller van, we suggest you go for the Bullbat Pioneer 500W, which can peak to 1000W and can easily operate most of your electric devices. Sporting a 505.44Wh battery capacity and multiple ports, this 500w portable power station will make sure you are always powered up.
Bigger Vans:
With more people in your van or on a longer trip, you need something with a large battery capacity. Bullbat adventurer 700W or Bullbat Pioneer 800W are mainly designed for outdoor adventures within your budget. These 800W power stations also come with an LED light and a cigarette lighter.
A portable solar power station is your best friend when you are always on the go. And on the road with Bullbat, you can conveniently meet all your power demands.