A portable power station allows you to access electricity and meet your needs. It works just like a backup generator to power up devices and appliances in the absence of electricity.
A portable power station generator has excellent capability to power many devices simultaneously. It is generally accompanied by AC outlets, DC outlets, USB-A outlets, USB-C outlets, and car outlets. It can run small devices to big appliances as per the user's needs and the capacity of the power station.
A portable battery power station is ideal for those who live in areas prone to natural disasters or loss of grid events. It provides great convenience in times of emergency or when people find themselves away from an electrical outlet. A rechargeable portable power station is a must-have backup generator for extended use, especially during travelling or camping.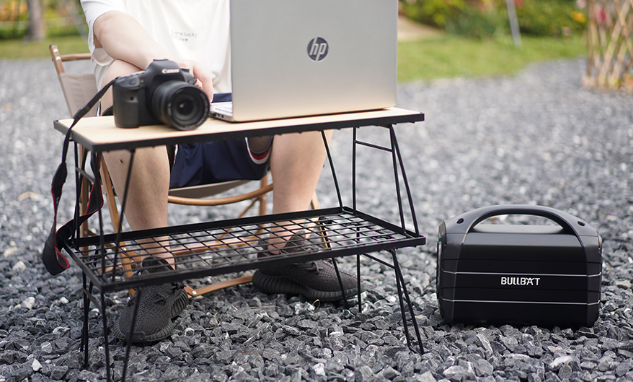 List of Devices and Appliances That Can Run on a Portable Power Station
A portable power station can power a wide variety of devices and appliances. However, it works best for running small devices and appliances for a long time. Here is the list of devices and appliances that can run on a lithium portable power station.
Laptop.
Smartphone.
Radio.
Medical equipment.
Tablet.
Mini cooler.
Electric grill.
Coffee maker.
Flashlight.
Portable heater.
Microwave oven.
Small drone.
Projector.
Mini-desk fan.
Lamplight.
Camera.
Mini-fridge, etc.
What CAN A 250-Watt Power Station Run?
A 250-watt portable electric power station has enough capacity to run a laptop, smartphone, 32"TV, mini car refrigerator, and other small appliances that consume less than 250 watts. It can charge laptops for about 3-5 times, smartphones for 17 times, mini car refrigerator for about 4 hours, and 32" TV for 2-3 hours, respectively.
Are you looking for the best portable power station to charge your portable stove, medical equipment, or gaming PC? Visit Bullbat and get a reliable portable power station for yourself to enjoy hassle-free outdoor adventures.
What Can A 500-Watt Power Station Run?
A 500-watt portable power station works efficiently during prolonged power outages. It can easily supply power to your electronic barometer, GPS, dehumidifier, TV, snow blower, portable stove, and much more. It is ideal for running home appliances when there is a power failure at home.
Do you want to purchase a 500-watt high-power portable power station to have a backup generator in states of emergency? Then, get yours from Bullbat to meet your electrical needs.
Wrap Up:
A rechargeable portable power station supplies enough energy to charge devices and household appliances. It provides a perfect home backup power supply system in states of emergency or natural disasters. You can take your electric portable power station everywhere, and it can charge multiple devices simultaneously. Additionally, it will give you all the comforts of home while camping or travelling. So, why not buy a portable power station for yourself today? Visit Bullbat and make a wise choice.