Just because you want to go outdoors while camping doesn't mean you have to stay without power. Thanks to portable power stations, you can have a sufficient power supply to charge your devices, electronics, and other appliances while you are not at home.
A portable power station lets you enjoy your camping time worry-free. If you love camping and want to make frequent visits, you need to purchase a portable power station generator to keep your electronics alive.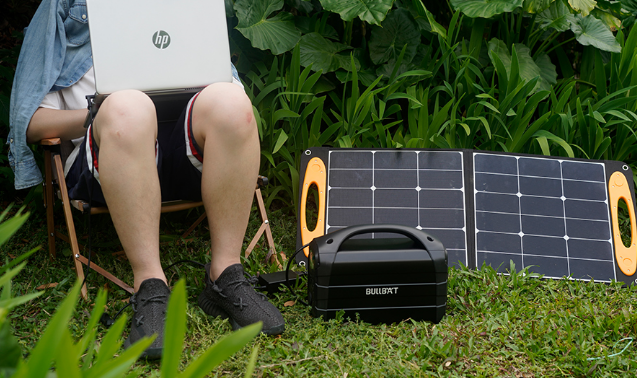 Why You Need a Portable Power Station for Camping?
There are numerous reasons for investing in a portable battery power station for camping. For instance:
To keep things quiet.
To recharge your devices.
To make things easier with the portable nature of power stations.
One of the best advantages of a lithium portable power station is that they provide a smooth and quiet operation. You can run anything on it, from a phone to a refrigerator, in a noise-free way. A portable solar power station provides plenty of recharging options while you are camping. These include AC, DC, and solar power to run your devices. Portable power stations demand little to no maintenance, and they are super safe to get all the power you need.
Now, are you looking for the best portable power station for your next camping trip? Bullbat provides top-notch portable power stations, allowing you to enjoy your camping in a hassle-free way.
Find Out Your Camping Needs Beforehand.
It is best to gauge your camping needs beforehand to know which portable electric power station works best for you. Take some time to decide on whether:
You will be camping alone or in a group.
You will have a multi-week camping road trip or just a weekend camping.
You will choose vehicle camping, backpacking, or tent camping.
These factors play a significant role in deciding what power supply fits your total power needs during camping.
Want To Know Some Unbeatable Picks?
The Bullbat Adventurer 700 Portable Power Station is highly durable, and efficient and features high-quality aluminium alloy. It features faster heat dissipation and is an affordable power station for camping. It has a large battery capacity that lets it easily handle most electrical devices.
This solar generator portable power station can charge various devices and appliances such as a mini desk fan, camera, drone, tablet, smartphone, laptop, neck massager, mini-fridge, lamplight, etc. It has high power output, making it a perfect power supply option to charge any device while travelling or camping with your friends or family.
However, if you are more in number and out camping for several more days than usual, consider choosing BULLBAT Pioneer 800 Portable Power Station. This high power portable power station provides great power to run basic equipment for several hours. It is an excellent power supply for camping for several days.
Conclusion:
Technology is an amazing invention as it makes our life easier. However, it is not free of limitations. We need to recharge our devices off and on, especially in the absence of electricity.
In such situations, a portable power station renders valuable services during camping, and one can survive without an electric hookup. Why not purchase an electric portable power station to ease yourself while you are camping and enjoy your trip to the fullest? Visit Bullbat and get a reliable power station at your doorstep.